We Built Rome...In One Day
Saturday morning greeted Rome Through Richmond Town with a cool, apathetic drizzle that grumbled, "Washout." Dozens of tents dripped as they waited to face a lonely afternoon distinguished by deserted streets. A bit of hope came with the early chill. Despite the rain, hundreds of cultural representatives marched onto the museum grounds. They turned their backs to the weather and got busy. Exhibits unfolded. Museum displays popped up. Videos flickered to life.
BP Oddo and Sen. Savino took a courageous step. They were backed by the generosity of the Nicotras and other sponsors.


These culture warriors dodged the raindrops to share their perspectives on Italian heritage. They also brought good cheer and laughter to the historic streets of Richmond Town. Casa Belvedere, Staten Island Museum, Italian-American Women of SI, Garibaldi-Meucci Museum, Order Sons of Italy, Snug Harbor Cultural Center, St. George Theater, Sundog Theater and over 35 other organizations braved the rain. Their efforts mirrored the tenacious spirit of Italian culture. You could sense their dedication and passion. It reached every corner of the site.
As it drew closer to 12 noon, the event organizers and sponsors gathered around Staten Island Borough President Jim Oddo. The BP had his smart phone out. When would the rain stop?
The Borough President had taken a courageous and risky step. After hearing from local merchants, parade participants and the general public (think what you want, but Oddo is a noted good listener) he discovered that the Columbus Day Parade inconvenienced the community, hurt local small businesses, and was poorly attended. In addition, it was the only parade completely funded by tax dollars. The BP decided this was not the best way to celebrate Columbus or the holiday.
Wouldn't it be better government to relaunch the parade into something more significant, with greater depth and culture? Couldn't we have a celebration that lasted hours instead of minutes? Why not an event which presented the multi-faceted heritage of Italians? And yes, Christopher Columbus could attend - live - to answer questions and share his perspective! This would be far more productive than a passing parade. Senator Diane Savino agreed with the BP (from the opposite political party, mind you) and came out in public support.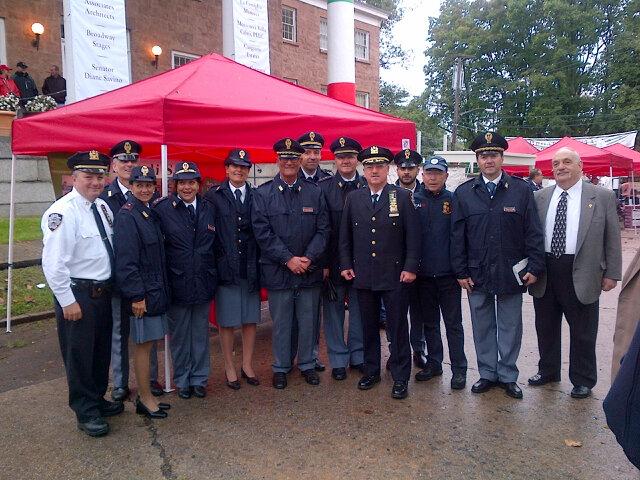 Polizia di Stato at Rome Through Richmond Town!
The naysayers shouted, "Impossible!" The pessimists hissed, "No, no good!" The BP and Senator were accused of ruining the holiday. Then something wonderful happened. Lois & Richard Nicotra, Phil & Len Rampulla, Jerry Amerosi, Ray Masucci, Mike Menicucci, Bob Cutrona and businesses like Cangiano Estates, Broadway Stages, Touchstone Health, Angelina's Ristorante and others showed their support - like so many Italian-Americans before them - and said, "YES!" They believed that Oddo and Savino were doing something transformative and good. They answered the call for assistance. And to show it, they backed it with their checkbooks.
Now, it was show time - festival day. Michael Amante and Joe Piscopo were to perform; authors Joe Squatrito and Prof. Fred Gardaphe were to lecture; chefs Max Colicchio and Eddie Gomez were to demonstrate In Cucina. This was not going to be a ten block parade but the biggest and best celebration of Italian culture Staten Island had ever seen. But who would come?
Just before noon the rain was still coming down in spurts. Privately, the BP and Senator shared their gratitude to the sponsors, elected officials and the board members of Historic Richmond Town, thanking them for their help in making the event possible. The BP checked the local radar. Suddenly, he looked up and showed everyone the map on his display, "Wait. It looks good."
"I have the same," said someone waving their phone.
"Me too," a third voice confirmed.
The organizers looked out from under the canopy and gazed heavenward. Someone was smiling from above. The sky faucet squeaked closed. The rain sputtered to a stop. It was very cloudy. But it was wonderfully dry.
Exec. Dir. Ed Wiseman & BP Jim Oddo become keepers of the Tower! Notice one of our newsies on the left side of the photo. These young interpreters were handing out copies of early 20th century Staten Island Advance pages.Jim Oddo, Diane Savino and friends stepped into the historic streets. They were greeted with smiling faces and pats on the back. Who needed the sun? The day was brightened by an Italian-American festival ready to shine.
Excited exhibitors began to share their beautiful displays with guests as they trickled in. Twenty members of Polizia di Stato, all the way from Italy, roamed through the festival in full uniform, greeting everyone, conversing in Italian and English. These men and women hailed from a number of Italian towns and villages. They brought a hometown reality to the event, making connections with guests who heard stories from the places of their ancestors.
Despite the chill, the clouds and controversy, the crowds continued to come. At first by the hundreds and then by thousands. At one point, it was difficult to pass through the center of town without bumping into the nine-foot replica of the Tower of Pisa. What was once a parade that drew a few hundred was now a five-hour cultural collaboration enjoyed by almost four thousand.
By five o'clock the crowds had their taste of Italia and were satisfied. They had seen the performances. They took in the exhibits. They heard the lectures. They walked through the 50th Anniversary of the Verrazano-Narrows Bridge. They created their own handmade pizzas. They discussed America with Christopher Columbus.
And after they had a homemade sausage and pepper sandwich from the only eatery offering them - Montalbano's, a third generation local pork store - they went home, smiling.
The day ended better than anyone expected. Uh, well...we hope no one was upset about not finding any zeppolis. Never mind, let's not be negative.