Eat, Drink & Be Meryl!
The Dr. Meryl Efron Digital Gallery
This area is an online gallery in memory of Dr. Meryl Efron (1957-2013). As a tribute to her lifetime love for cooking, antiques, and Historic Richmond Town, we will be featuring objects from Historic Richmond Town's collections that relate to the tasty topics of food and drink.
From the earliest days of America, old and new forms of ceramics, glassware, and metalware were made and imported for producing, serving, and consuming food. Recipes were shared, trends evolved, and a country of enthusiastic eaters and drinkers was born.
In the 1800s, as America grew and evolved, people increasingly expressed social status through the objects and customs associated with eating. The many specialized objects used in dining show how concerned people were with the rituals surrounding a formal meal.
During the twentieth century, more Americans were eating out, and Staten Island businesses responded to changing tastes and lifestyles. Just thinking about it makes us hungry...
"Show me the way people dine and I will tell you their rank among civilized beings." --Harper's New Monthly Magazine, 1868
Click on each item to view it's description in our digital database.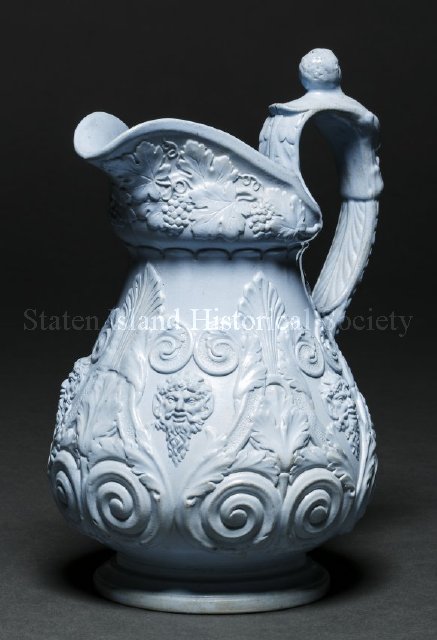 Dr. Meryl Efron
Born in Oakwood on Oct. 14, 1957, to Harriet and Al Efron, a public school teacher and an architect, Dr. Efron was a graduate of New Dorp High School and Wagner College, where she earned a bachelor's degree, magna cum laude, with a double major in biology and art and plans to become a medical illustrator. But she enrolled instead in dental school, earning a degree in 1983 from the New York University College of Dentistry and completing her residency at Staten Island University Hospital.
She was an associate at an Eltingville dental practice until 1991 when she joined Dental Associates of Richmond in Concord, where she eased fears and welcomed patients with elaborate decorations for Halloween, Thanksgiving, Christmas and St. Patrick's Day. She also had a knack for distracting fearful patients with easy conversation about the photos that covered the walls of her exam room — the red rocks of Arizona photographed by her father and scenic shots from her vacations in Cape Cod where her dogs frolicked in the surf.
A skilled cook with a secret ambition to be a caterer, Dr. Efron enjoyed bringing together a wide circle of friends to enjoy multi-course meals she planned and prepared from start to finish. She also donated her cooking skills to community events. At Historic Richmond Town, Dr. Efron prepared food for tavern concerts and dozens of fundraisers.
Her involvement at the historic village began in high school when she volunteered in the museum gift shop. During the summers she attended Wagner College, Dr. Efron worked at Richmond Town as a costumed interpreter, leading hundreds of tours for school groups and tourists. Her dedication to the Staten Island Historical Society continued through the years and, in 2005, she was elected to its board of directors. At the time of her death, she was serving as first vice president of the board and as chair of its governance and collections committees. "Everything she did was 200 percent," said Ed Wiseman, executive director of Historic Richmond Town. "She always gave double."
Dr. Efron served on the boards of directors of the St. George Theatre, Project Hospitality and the Staten Island Zoo. She also supported the Staten Island Center for Independent Living, University Hospice and the Staten Island Children's Museum. "Meryl — always with a smile," added Mary Beth Grieco, office manager and a close friend. "She could put people at ease just by speaking a few words; you knew everything would be OK. Meryl was like a magnet, drawing people in with her caring heart and warm personality."